Found a new fun blog called
Adventures of newlyweds
! She has written the cutest link up called Friday's letters. I thought I would join in!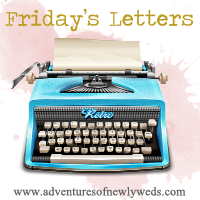 Dear Amelia, thank you for sleeping 7 hours in your crib last night, mommy really needed the sleep. Dear neighbors, please decide weather you want me to babysit your son or not so I can get on with my life. Dear credit collectors, please stop calling me at 2 o clock in the morning or i'll find you and give you the crying baby. Dear Micky Mouse Clubhouse, Thank-you so much for entertaining my daughter while i get to eat a bowl of cereal :P. Dear husband, thank you for working two doubles this weekend your the best hubby ever! Dear mom, thanks for the fun visit yesterday, I am really excited about this weekend! Dear mother's day, I am soooo excited to celebrate my first this year,looking forward to a sweet calm day with my little family.
Dear everyone, GOD BLESS!