Whats on my mind today? Birthdays!
Yes this month is full of them for our family.
Jacob: June 14 Mine and Amelia's: June 28
On top of our little family's birthdays we also have Jacob's first fathers day on the 17.
Yup you could say I have a lot on my mind and plate. To kinda bring down our list a little bit, me and Jake decided last year that we would celebrate our birthday's on the same day. Also for father's day, the plan is to just have a day of total relaxation for Jake. So that brings the parties form 4 to 2. A birthday party for me and Jake and a birthday party for Amelia.
As for right now I have
no
idea what we are doing for mine and Jake's birthday. :(
However...
I have to say that I am super stoked for Amelia's first birthday! I mean can you believe that the person that posts hundreds of pics of her daughter is sooooo excited for the big ONE.
We finally know where we are going to have it. I have it booked and we are set to go :)
I do have an idea what we are doing for her invites (but that is for another post : P )
We were doing Minnie mouse for the theme but trying to find everything Minnie mouse was a pain in the a$$. So now the "theme" is pink and first birthday. Sweet and simple :) I am looking for something like the pics below.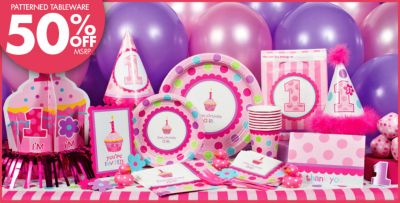 Yup adorable!
I can't wait till everything comes together. Be prepared to a huge 1st birthday post at the end of the month!
Well got to get back to thinking...hmmmmm
GOD BLESS!!!!